Who Is Kyla?
My wife and I have been blessed with three daughters...the oldest of which, Kyla-Elizabeth, was diagnosed with a cancerous brain tumor on June 20th, 2005. She passed away seven weeks later on August 8th, 2005. She was a vibrant and intelligent 7-year old first grader with her whole life ahead of her. We noticed a slight limp in her left leg two weeks before she was diagnosed, but it didn't become apparent that something was truly wrong until the day before we got the news that our life was forever changed. Kyla is our inspiration for this new endeavor in our life...she taught us to live life every day as if it is our last.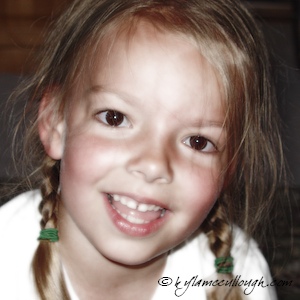 In an attempt to give you a glimpse of who Kyla is, I have included the following text, which was read at Kyla's memorial:
Kyla-Elizabeth McCullough will be missed by many here. As her parents, we are so proud of her in so many ways. We feel so blessed to have had her in our lives to experience so many memories with her. Kyla lived life hard, laughed hard, cried hard, loved hard. She constantly picked words apart in attempts to master their spelling, had a love for the water, a love and respect for animals of all kinds, an ability to comfort someone in need, a wonderful vocabulary, math skills beyond the average second grader, a love for her sisters and an appreciation for the "big sister" role, always showed her parents the way, was the center of attention in all situations without trying to be, had a hunger for opera and broadway shows, a great sense of humor, a beautiful singing voice, a steady hand for her art, possessed the magic to become anyone's friend, always accomplished the task at hand, and carried a striking beauty that captured anyone who first saw her. Her spirit has always been strong, and has always been stubborn. This is precisely why she could endure such a sickness. She went through each day with her usual grace and never saw it as something that was going to beat her. In the end the tumor died...it will not grow and cause pain ever again. However, Kyla still lives on and is experiencing eternal life. Congratulations Kyla, you've won!
Earthly: November 22nd, 1997 - August 8th, 2005
Heavenly: August 8th, 2005 - Eternity

How Has Kyla Touched Others?
The first time I saw Kyla she was 3...running around in her yard with a bubble mower when we moved into their neighborhood. She was the same age as my son, Isaac, and they became quick friends, and so did Brettie and I. We learned we had a lot in common...we're both young moms and spent a lot of time together because we were both at home.
I was honored to become a part of Kyla's life. I had always wanted a daughter and Kyla came into my life when we were trying to have another baby. She looked a little like my son so it was easy to fantasize that they were both mine. I remember thinking that we could adopt a daughter because of how much I loved Kyla. She was a really special girl. Even at 3 and 4, she could hold a good conversation and had insightful and funny things to say.
When we were neighbors, I was able to spend a lot of time with Kyla. I loved styling her hair and talking girl talk with her. Our families celebrate holidays and birthdays together, but what I most remember is just the regular days, seeing her big brown eyes in the rearview mirror in the back seat next to Isaac while I was running errands. I liked taking her places and pretending she was my own.
Kyla was really girly. In her 1st year of T-ball she played with my son so I was able to see her at every game. When she got her first cleats, she didn't want to get them dirty so she did this dainty hop-run to try to prevent getting mud on them. I can still see her doing that, holding her hair out of her face. In time she became very athletic and competitive, playing soccer and T-ball, but she was still really girly. I remember she had a fairy costume one Halloween and she'd play dress up in it. Isaac reminded me recently of the time she came out of her room in her costume with this goofy look on her face, trying not to laugh. They were about 4 at the time. Brettie and I laughed and Kyla said, really seriously, "No one laughs at the magical fairy!".
Recently Kyla had become interested in cheerleading; she was going to attend a cheerleading camp this summer. It is easy to see how Kyla would be a great cheerleader...she had the spirit, she had the beauty, and she had the outgoing personality. It really suits her personality perfectly.
The one thing that stands out most about Kyla is her strength of spirit. She was not always an easy kid...she was so strong-willed! She was very smart and that strong spirit enabled her to excel in anything she was interested in. She was reading before kindergarten! Her math skills were amazing. She was accepted into TAG at school this year. Kyla was a really smart girl with parents who recognized her talent and intelligence early on and gave her every opportunity to learn as much as she could.
During her illness, that spirit really shined. She was telling jokes and her sense of humor was still intact. She had a fabulous sense of humor. She loved to laugh and be silly. I had a lot of fun teasing her and tickling her. She always gave me this look like I was ridiculous but she humored me. I know that her strong spirit and loving nature lives on in Heaven and it's a comfort to me to know that I will see her again there. She will always be the girl with the big brown eyes, shiny brown hair, and innocent smile.

I used to have the privilege to babysit Kyla. And I just remember that she was so full of laughs and a love for life! One time we decided to paint our nails and she taught me that if you put your nail polish in the fridge it doesn't clump up!

Kyla...such a spitfire at the age of about 17 months. She would walk to you until you asked her to...the she would giggle and run away. She grew into such a brave, articulate, beautiful young lady. In the Operating Room she didn't have any fear, just an overwhelming frustration. After all, "she wasn't sick...she just had a tumor". Her tooth fell out, she woke up just wanted to tell jokes. Picking on Mom and Dad...some things never change.
Each and every time I saw her she had a great big grin glowing on her face. The spitfire hidden away for just the right time!
Kyla lives on in each of us...no matter what little time we were privileged to spend with her.
(Quick story...while we were all sitting with Kyla waiting for the hospital staff to cart Kyla away into her biopsy surgery, up comes a familiar face...Angie. We hadn't seen or talked with Angie for a number of years, and here she was going to assist in Kyla's surgery. For Brettie and I, knowing somebody in the Operating Room that we knew would be looking out for Kyla allowed us to relax a bit. I believe that was a gift from God.)

We would like to share our memory of Kyla at a Hanson Family Reunion in 2002. We were all at Uncle Bryan's house. We were outside on the deck visiting, there was a portable radio with a microphone...no one wanted anything to do with it, except Kyla. With no hesitation she picked up the microphone and started singing! It was beautiful!

My most favorite, most vivid memory of Kyla was when I got to first hold her. She had to be less than a week old. My mom placed her in my arms. I had never held a baby before so I was kind of nervous. My mom placed her in my arms and I smiled at her. In return, she looked up at me and smiled back. A beautiful smile with beautiful brown eyes. That is the first memory I have of Kyla, with so many memories to remember. Kyla, I will always love you. I will always love your smile. I love everything about you. You are forever beautiful and forever alive. Forever with Jesus. I love you Kyla.

I just wanted to tell you about the time that my daughter played in a softball game against Kyla. I ran into your mother (Yvonne) there and said to her that I now had to root for both teams. That was just this year. After your friend spoke about her regarding softball it made me smile.

I feel honored to have had Kyla as a student in my first grade class this past year.
Kyla loved to learn. She was a bright and enthusiastic student. She was a great reader and would often giggle as she read so you knew she got it. She was tested and qualified for the Talented and Gifted program.
Her love of learning she shared with others. We had a student who was learning English and Kyla quickly became her friend to help and watch over her.
Whenever Kyla did her work, she always did her best. Every piece of work that came to me was beautifully done.
Kyla loved to talk about her family at school. We know how silly her sisters are, how crazy her dad can be, and even her mother's age.
Kyla liked to be helpful in the classroom. I would often hear the words, "Mrs. Gillette, I'm done. Do you have a teacher job for me?".
Kyla loved art. I can not tell you the number of times I would begin my day having received a piece of Kyla's beautiful artwork to hang in our room.
As a student and a person Kyla was an inspiration to me and to all the students in our class. Even last weekend at the hospital she was asking her dad how to spell "itchy". My husband had arm surgery and I received a letter telling me she was worried about him.
Kyla wound her way into my heart. My last email I greeted her with "Hi Kyla Angel Girl!" because that is what she was to me and that is what she will always be.

Links
Kyla's Gift Fund Statistics
Created On: 11/22/2006
(Kyla's Birthday)


Total Money Gifted:

$35,350




2008 Benefit Summary
Money Raised:
$24,150
Guests:
248
Featured Charities