Wanna Help? Become A K.I.D.
Sounds easy, right? Well...it actually is.
One of the advantages of working behind the scenes on The Kyla McCullough Gift Fund is that we get to see the good side of humanity. I am repeatedly amazed at people's response to our daughter's life...and then their willingness and desire to help out with building Kyla's fund. With everything that our family has been through, it can be very uplifting. Many times, though, it can be difficult to find a way that people can help.
In the last few days, we have come up with a program that anybody can implement, and that will surely make a big impact on the building of The Kyla McCullough Gift Fund. We are very excited to introduce the K.I.D. (Kyla's Inspired Delegate) Program. Here is how it works...if you (yes you), can get 8 people (not including yourself and a guest) that have not attended one of our dinner & auction events in the past to commit to a reservation at this year's Benefit Dinner & Auction, we will provide you with 2 free reservations for the event. In becoming a K.I.D. you will also be given the option to reserve a table for you and all of your guests to sit together at the event. In addition, each K.I.D. will receive special recognition during the evening's program.
One of the many factors in the success of the Kyla McCullough Gift Fund is our ability to get people to come to our events. One of the most difficult things to do is to draw people that don't know us to our event...but this is where you (yes, you again) come in. While we all share a common bond, we each have our own circles of relationships...friends at work, at church, family, neighbors, etc...an endless number of people. There may be no greater contribution that can be made to the Kyla McCullough Gift Fund than for you (yep...you) to bring a mere 8 people from within your circle of relationships to our Benefit Dinner & Auction.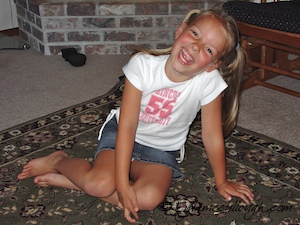 Now, we know this may not be for everybody...but we do believe that it will be a good fit for some. If you feel like you want to be a K.I.D. (and at our age, who doesn't)...then print off the
K.I.D. form
, recruit 8 guests, fill out the form, and send it in with the reservation money. If you have any questions, please feel free to contact our co-coordinator, Lisa Ramage (her information is on the form).
Lastly, there is just over two weeks to get your reservations in...so you (yes...you again) had better get on it! :)
We are very excited about this year's event and we hope that you will join us in our attempt to make an impact on the lives of children living with cancer.
Thanks for all of your support!