Kyla - First Lamb To Arrive
When Kyla got sick the number 7 came up more then I can count, but here are a few examples. Kyla was 7 when she was diagnosed, her seat on the air plane on the way to Disneyland was 7. Kyla's hair was cut off in 7 sections, Kyla had 7 pokes in her arm at Emanuel Hospital (6 too many). Kyla was in room 7 in the emergency room the last day of her life, and she was given a less then 2% chance of dying, on the 7th of August. And the number of weeks between her fist diagnosis and her heavenly birthday was...7.
Ever since Kyla has left me the number 7 has been a strong part of my life. I realized the horse I had when I was in high school was named 7, I go on vacation with friends and and the number in our party is 7. I had to get a new drivers license and when they called number 7 I knew it was my turn. Kora found a rubber ball used for shooting pool outside of our house, she brought it in to show me... it was the 7 ball. Before our trip to Hawaii I bought a tanning package, my tanning number was 741... when Kyla got sick she was 7 Kora was 4 and Bree was 1. I was just in the hospital getting a minor surgery done and when I was coming to Bret said, "Guess what number of bed you're in?" I looked at him and with a groggy voice said, "7." We both giggled as Bret said, "You are going to be fine."
Last November, my brother and sister-in-law bought an inscribed brick at Doernbecher Children's Hospital in Kyla's honor. The brick has been done for sometime, but was laid only a few weeks ago in the courtyard there where all the kids play. We didn't get the chance to take Kyla there to play but we knew exactly where it was.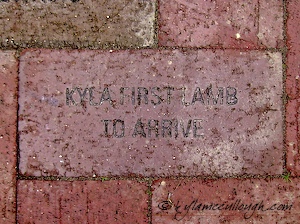 Earlier this month, on the date of Kyla's heavenly birthday (August 8th) our family along with my parents and Bret's parents and bother Joey went to Doernbecher to visit Kyla's brick for the first time. To spice things up a bit we all took the Portland Aerial Tram up to the hospital. When we walked into the hospital I could feel my legs shake. I didn't know how my body was staying up let alone walking to the courtyard where we were to find the brick that had Kyla's name on it. We walked through the hallway between OHSU and Dornbechers and that's when it hit me... I had made that trip with Kyla everyday for four weeks and it was an out of body experience to walk it without her. We made our way through the doors to the courtyard; we forgot our map we had that told us which section the brick was in. But we knew already, the section that her brick is in is not 7... it's 14, the number 7 doubled.
We all took our turn trying to find her brick...Kyle...Joe...McCullough...Kylie...all of a sudden I yell, "Here it is, I found it!" Everyone turns to find me already on the ground touching it. The brick reads, "Kyla First Lamb To Arrive." The power of the words, the fact that I felt I had help in finding it among the hundreds of bricks around us. I started to cry, and I didn't stop for sometime. The hugs I received only made it worse and yet I couldn't make it without them. In order to give myself a break I walked the courtyard until I found a pink piece of chalk. I went back to my daughters brick and drew my signature heart around it. I then asked Royce, Bret's dad, to take a photo of Kyla's mom, dad, and sisters' hands touching the brick. I felt proud to take the photo but also very saddened for the simple fact that Kyla was not physically there with us.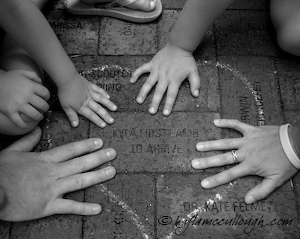 For those of you that would like to visit Kyla's brick yourself, here are the directions:
Doernbecher Children's Hospital
From main entryway lobby:
1) Take elevator to the 9th floor.
2) Off the elevator, take a right down the hallway.
3) Go past the US Bank Family Waiting Room on the right side of the hallway.
4) Take your next right and go down the inpatient corridor for South 9.
5) Then take another right at the end of the hall and out into the courtyard.